Annual Conference 2022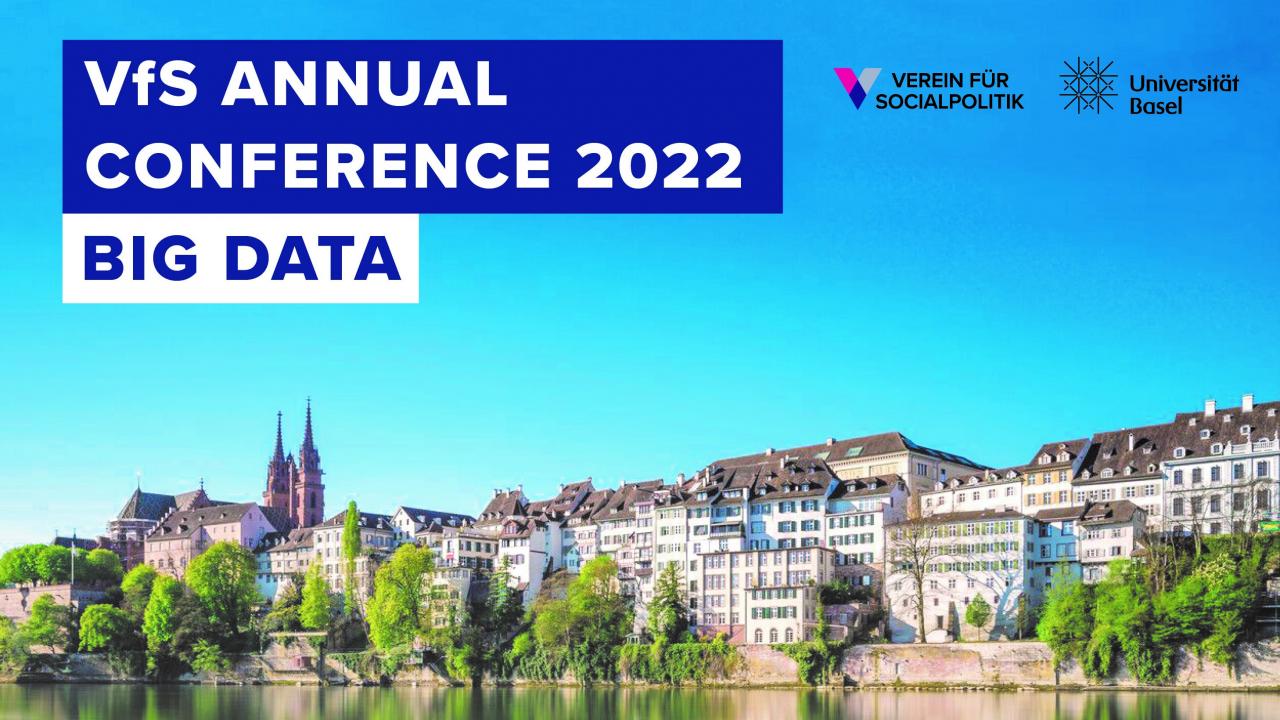 Universität Basel
Petersplatz 1
Kollegienhaus
4001 Basel
Switzerland
Core Conference Organisation: Joachim Winter (University of Munich (LMU)
Open Meeting Organisation: Thomas Siedler (University of Potsdam)
Local Organisation: Stefan Felder (University of Basel)
Open Meeting 2022
Call for papers: February 1 - March 1, 2022
The Annual Conference of the Verein fuer Socialpolitik consists of an Open Meeting with mixed topics and of a core conference with invited lectures concerning "Big Data". Presentations and Organised Sessions for the Open Meeting may be submitted from all fields of economics.
The submissions have been evaluated by anonymous referees and subsequently selected by the Programme Committee. The submitters will be informed about the acceptance of the contribution on 3 June and have until 20 June to confirm the contribution. Presenters must have registered for the presentation by 20 June. Membership in the Verein fuer Socialpolitik and acceptance of its Code of Ethics are required for presenting at the annual conference. After the acceptance of the submission, applications for membership can be made here.
With approval during the submission process, accepted contributions will be published in EconStor, the online publication database of the ZBW – Leibniz Information Center Economy which is a part of the collection of all VfS conference contributions. Further publication is not intended by the Verein fuer Socialpolitik.
EconStor is a disciplinary publication server for the distribution of economics research papers in Open Access. It is maintained by the ZBW - Leibniz Information Centre for Economics. Making your conference paper on EconStor as a pre-publication available, increases the visibility of your research (e.g. via RePEc) and does not conflict with the submission to a scholarly journal. If necessary, papers on EconStor can be withdrawn and deleted at any time. Further information here. 
Programme Committee of the Open Meeting (Chair: Thomas Siedler, University of Potsdam):
Silke Anger (IAB Nuremberg & University of Bamberg)
Lena Dräger (University of Hannover)
Tomaso Duso (DIW Berlin & TU Berlin)
Zeno Enders (University of Heidelberg)
Petra Steinorth (University of Hamburg)
Uwe Sunde (LMU Munich)
Andrea Weber (Central European University)
Rudi Winter-Ebmner (University of Linz)
Conny Wunsch (University of Basel)
Florian Zimmermann (briq & University of Bonn)
Josef Zweimüller (University of Zurich)
Core Conference 2022: Big Data